Super Screen
Super Screen provides the homeowner many years of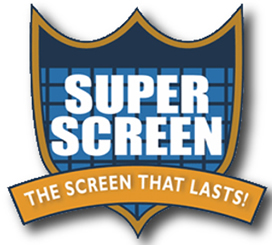 worry-free durability and protection by incorporating superior tear resistance and tensile strength. Super Screens advanced polymer formula defies deterioration.
In a simulated seven-year weathering test, Super Screen lost only 1% of its original strength. In fact, it remained 3 times stronger than new fiberglass screen!
If you live in one of the many beautiful golf course communities like Mirasol in Palm Beach Gardens then Super Screen is a perfect choice for your screen replacement.
Mildew Resistant: Super Screen fabric includes a biocide compound that resists mildew growth, yielding longer lasting beauty from the fabric. Super screen is perfect for the hot moist Florida summers.
Tear and Puncture Resistant: A combination of superior strength and weight create unmatched durability in Super Screen. At 6.5 oz. per sq. yd., Super Screen is 18% heavier than competitor materials. Unlike fabric made of dip-coated fiberglass, Super Screen fabric utilizes an extrusion-coated polyester core yarn, which results in superior tear and tensile strength that is 300% stronger than competitive materials and extends the life of the product. These features translate into a fabric highly resistant to punctures and tears, caused by falling debris and pet or pest damage, * Strengths are industry-established measures for the amount of force required to tear both damaged and undamaged textile products.
Stability from UV Damage: The UV tolerant properties of SuperScreen reveal themselves in the form of unsurpassed color retention, longevity, and filtering characteristics. With SuperScreen, extended exposure to the sun will not result in the bleaching, flaking, and fading, like other screens. Fiberglass screen tends to get brittle with age and sun exposure, while SuperScreen is virtually unaffected – which means it will look newer longer and save on maintenance.
Call Now To Sche
dule A Free Estimate
(561) 229-7090